GREAT OPPORTUNITY ! 3 ROOMS IN ARNONA TSEIRA
Close to Bakaa, in a modern building with shabbat elevator, nice 3 rooms, 73 sqm, balcony with view to a park, master bedroom, quiet and spacious. private parking and storageroom.Good for living or for investment!
Price: ₪ 2,080,000
Property Size: 73.00 m2
Rooms: 3
Bathrooms: 2
Request Info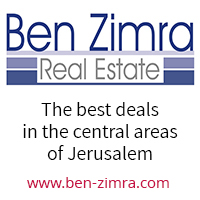 02-5633008


click to enable zoom
searching...
We didn't find any results
open map
View
Roadmap
Satellite
Hybrid
Terrain
Fullscreen






Advanced Search
Similar Listings